From @grz_ie23
Q1: How do we strike the right balance between centralised coordination and decentralised implementation of #EA initiatives? #HI201
Ans: Striking the balance is the role of good governance. The WHO-ITU Toolkit described three ways government can control the national eHealth development plan. The National eHealth Governance Steering Committee (through the TWG) agreed that the Philippine style is "Guided Market" (see image).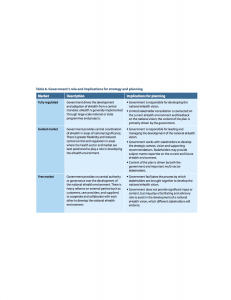 Q2: Several countries utilize service-oriented architecture (SOA), will this be part of implementation of #EA in our country? #HI201
Ans: Yes. SOA is a given in any environment where there is diversity of systems and business processes. Monolithic systems (systems that are not SOAs) have not been successful in environments that are multi-stakeholder. In fact, even within single enterprises, monolithic approaches are almost impossible where there are many departments with different applications.